CCTV Installation in Chessington
We live in a world where security means everything. You never know when your home or business premises might come under threat of intrusion or vandalism. Therefore, it is always a good idea to have an installed wireless CCTV system in place to help you monitor and control your perimeters.
It's safe to say that you can't be everywhere at once! That's why, at Aces Tech, we are proud to present a full range of equipment and fittings to ensure that keeping an eye on your doors, windows, entrances, and exits is easier than ever before. Even if you are merely considering an alarm system or a handful of CCTV cameras, it makes sense to ensure that you are working with the best equipment alongside talented, experienced installers who make CCTV installation look easy.
Are you concerned about the safety of your home, business, family, or assets? Now is the time to install the best CCTV home systems on your premises that really works for you – on your behalf – and not the other way around. Aces Tech provides the best tools and CCTV installation services to ensure that all bases are covered. We have you covered even if you need a home security camera system.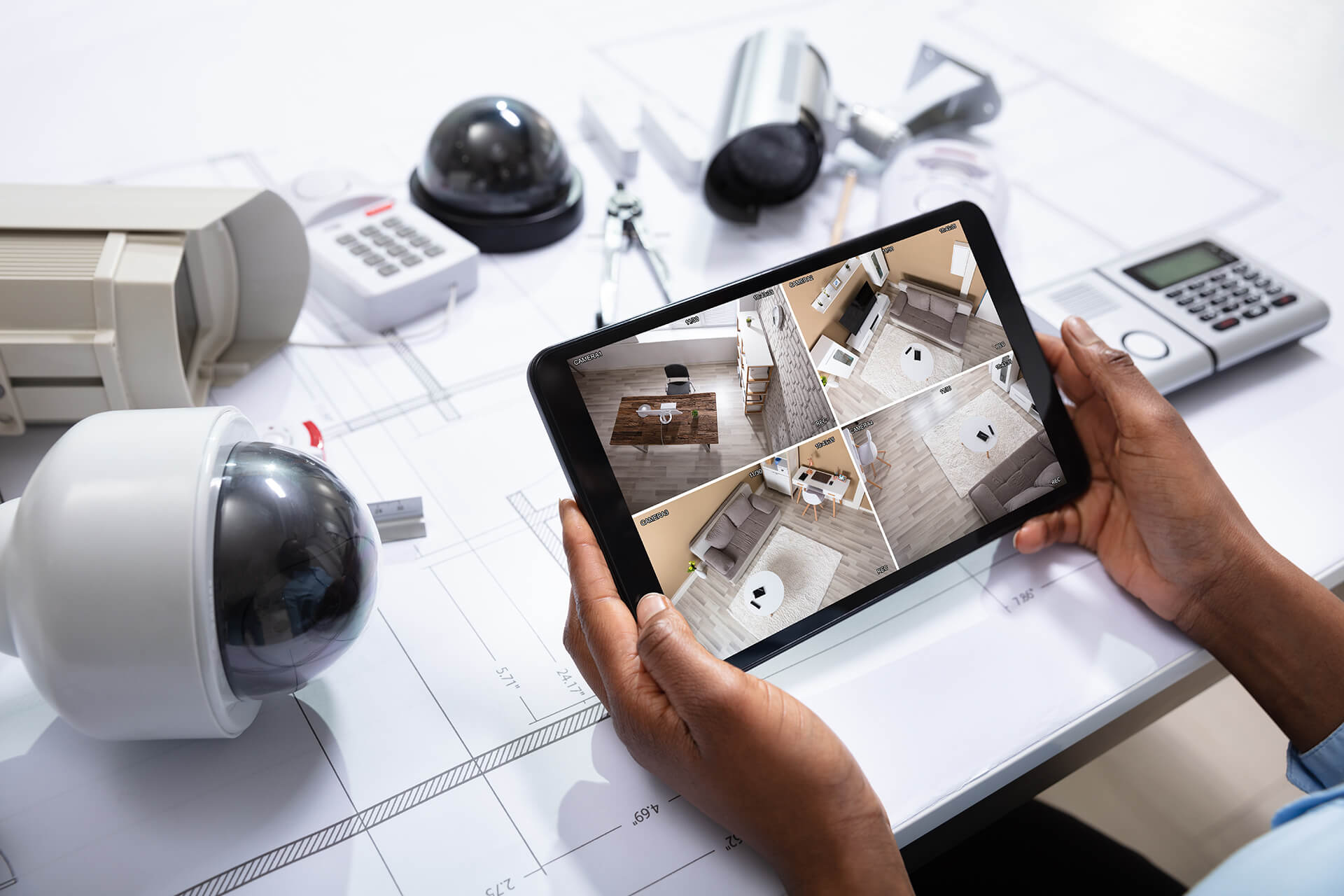 ALARM SYSTEMS
Combining reliability, performance and an advanced feature set, Visonic's PowerMaster intrusion alarm systems.
Best CCTV Camera for Home in the UK
CCTV camera solutions will ensure that you always have eyes on your premises. When working with the latest HD CCTV equipment, nothing will go unnoticed. You will be able to identify potential intruders in the full 4K, and with smart solutions, you can automate your video recording and control your surveillance through a central hub.
As one of the leading CCTV camera suppliers for home and commercial purposes, we want to ensure that you receive the best wireless home CCTV system available. From supply through to installation, our team will help you find the most practical CCTV solutions for your needs and even help you set it up and demonstrate how it all works in practice.
Want to keep track of your doors and exits from afar? With the best CCTV system in the business, you can!
Security Camera System for Home
A security camera installation should offer you more than just surveillance, ad hoc. It should give you complete peace of mind. Not only that, but the best security camera service will also help you to deter would-be criminals and intruders. However, it is always a good idea to install a system with experienced suppliers working by your side.
A commercial security system, for example, will likely work well even if you only have a small business that you need to take care of. You can purchase security camera packages on top lines of multiple different units, meaning that even if you only have one or two doors you need to secure, you can still be sure that you are covering all bases.
We highly recommend that you contact our London security camera suppliers to set up camera technology alongside alarm systems, too. There is nothing more effective than setting up a full security rig to take care of would-be intruders and vandals!
IP CCTV Camera System
Of course, camera technology is getting more and more impressive! Our modern IP CCTV camera will enable you to set up a surveillance system which connects to the internet. This means that you will be able to store all your footage and snapshots via the cloud and it will be quicker and easier for you to keep a close eye on your premises through a stable data connection.
IP CCTV installation is simple and flexible providing you have the best team in London working with you. Otherwise, you may be at risk of setting up the wrong service for your specific needs. Therefore, make sure to take a look at the brilliant array of services on offer at Aces Tech, and always let us know if we can be of any specific assistance!
How Do You Know If You Need Us?
If you need advice on any aspect of your security, our team has the knowledge and experience to recommend practical and affordable solutions.
Tell us what you want to achieve, and let us design a cost-effective, practical solution for your needs. Avoid the pitfalls of DIY products that don't live up to expectations. With decades of experience we can recommend the optimum results to suit your budget.
For the best results, let our experienced engineers install your equipment for you. You'll get a professional finish, expert installation and we'll configure everything for you so you don't have to wrestle with the instruction manual.
Our team is on hand to make sure you're systems are fully operational and configured to perform at their best. We offer phone and email support as well as engineer visits to your premises.
Alarm System Installation, UK
No home or business should be without a wireless alarm system installation. Protecting your premises with an alarm is the best way to keep it safe, whether it's a burglar alarm, a fire alarm, or a security alarm.
In addition to acting as a deterrent and a call to action, a local alarm system will ensure that the appropriate authorities are kept informed.
What's more, you'll be able to set up wireless zones and triggers, meaning that it's easier than ever for you to set up an invisible trap or two for would-be criminals!
Do make sure to take a look at our leading alarm installation technology if you're in the process of upgrading up your home security – or even at work
Contact Us
Be sure to take a look at the catalogue here at Aces Tech so that you can narrow down your options. Do also call our top team if you have any questions regarding home or commercial security. We're here to give you back that control and peace of mind you demand.
"Everything was excellent, customer service in store and technician onsite, everything I asked for was achieved. The person that attended was courteous, polite and made good communication throughout. He cleaned up after himself and always consulted me if he had any thoughts. He showed me how to use the system and also helped me connect my phone and tablet. Very much recommended 100%"
"I have recommended to others already. They are my first port of call for this type of work. Happy to recommend to anyone!"